As an employer or HR specialist, you want the best for your people. They're your most valuable asset. Healthy employees work harder, faster, are more satisfied, and likely to stay around longer.
This is exactly what an on- or near-site clinic can make possible when it's at the center of your benefit strategy. The fact that it also drives down overall healthcare costs to employers through decreased claims and cost containment is the icing on the cake.
The power of an on-site clinic is in its approach to primary care. It focuses on behavior change and personal responsibility — patients are empowered and encouraged to think beyond the immediate moment, illness, or symptom.
They think differently about their health. And while those benefits are massive for employers, an on- or near-site clinic also removes many of the complexities that come with understanding and navigating benefit plans.
HR employees face an impossible task
Chances are, if you work in HR, you're feeling overwhelmed. You're faced with the impossible task of crafting a benefit strategy every year — making decisions about benefits and coverage in a way that protects both employees and your employer.
But that's only part of it . . .
You're also in a position to help employees navigate the different elements and nuances of their plans. And with a wide coverage selection, not every plan is the same.
Every employee's benefits are different. It's impossible to go through all the fine print and explain the details your employees need to know before they get sick, before they have a procedure, or before they face a medical emergency.
As an HR employee, you're tasked with making sure everyone knows their benefits. You likely provide training and seminars to help make sure everyone can take advantage of the full extent of their benefits package, starting with marketing strategies to get them in the door.
This isn't why you signed up for human resources. So what would happen if you suddenly didn't have to do it anymore?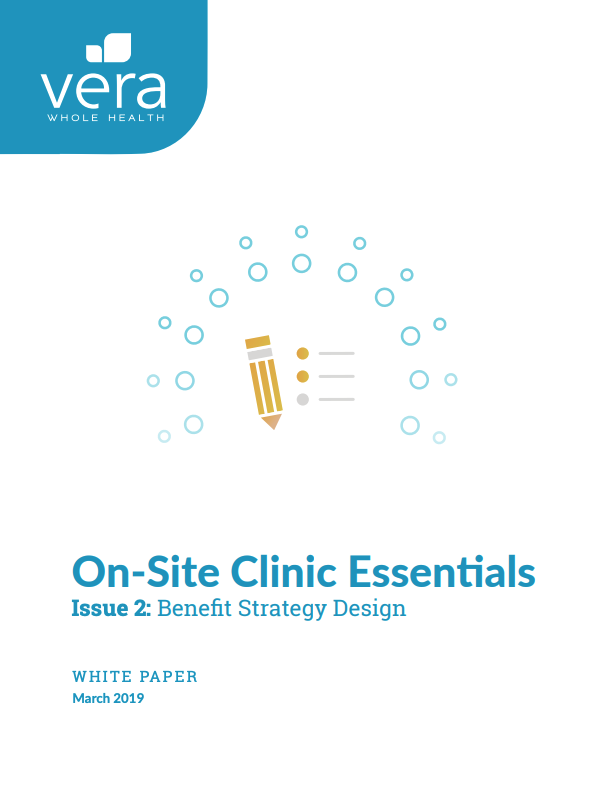 On-Site Clinic Essentials Issue 2: Benefit Strategy Design
You might think it's impossible to make personalized healthcare more accessible to your employees, and drive down overall healthcare costs. That's why we created this white paper — to show you what happens when you center your benefit strategy around an on-site clinic.
HR employees: an on- or near-site clinic is your dream come true
When an on- or near-site clinic is at the center of your benefit strategy, you no longer have a long list of different vendors, with different rules, and requirements that you need to manage.
In an instant, your burden just lightened by almost 30%. An on- or near-site clinic removes much of the complexity, because everyone is starting from the same place.
Better yet, you're not working in isolation, especially with Vera. Our team is dedicated to working with you — answering questions, strategizing messaging, providing education, and raising awareness about the benefits of the clinic.
Whether you're a veteran or new to the unique on-site clinic approach, employees will always have a lot of questions. At Vera, we want you to be equipped to answer anything that comes your way. So we'll work closely with you to provide all the answers they need.
But we'll also help you think through a messaging strategy.
Before we launch an on- or near-site clinic, we've already analyzed over two-year's worth of claims data. We know the risk population. We understand the services your employees need.
Because of all that, we can help craft the most effective message that will get the attention of your employees as well as provide critical information about the clinic. That includes designing meet and greet, informational, and patient-centered workshops and meetings, as well as determining the best incentives for you to use to get the most bang for your buck.
An on- or near-site clinic stands out for its simplicity. Your job will never be easier (at least this aspect). It'll also give you more time. Time to focus on recruitment, employee satisfaction, retention, and all the things that inspired you to pursue human resources to begin with.
If you'd like to find out more about the power of an on- or near-site clinic as part of your benefit strategy, download and read our white paper, On-Site Clinic Essentials: Benefit Strategy Design.